I see Peanut Butter Sandwiches in our Future!
YUM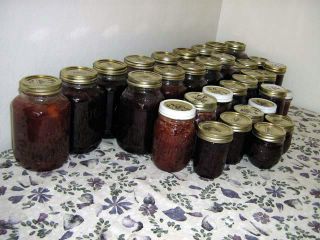 Plum and Peach jam

We are very lucky to have 4 fruit trees and I'm lucky that my hubby likes and knows how to can. I like to help but don't like doing it alone. Anyway, I did get kind of an ultimatum like attitude about the fruit in bags on the kitchen counters and in the refrigerator. So we buckled down, I picked the rest of the peaches off the tree, filled our personal compost and the garbage service compost with the fruit that hit the ground so our goats (I mean dogs) could go back to their regular diet. Kristen commented about the dogs eating fruit. It is kind of funny. Plus they will eat until they get tummy aches. Steven lead the actually canning process as I helped pit, cut and stir. With this and watching the
OK GO Treadmill video
a gazillion times at Esther's request while she asked why they didn't just use the treadmills to exercise with, I had a pretty busy weekend. I barely had time to balance months (if not quarters worth) of our checking and any other accounts. The weekend and first few days of the week have just flown by. Esther started swimming lessons on Monday and the little kids are just so cute!
Clutter, Organization and Where the BLEEP did I put that TAPE?!?!?
I've lost some important things in my life. Nothing so important that I can remember right now and tell you about in this blog. Nothing that matters as much as oh...say...Part of our AMERICAN HISTORY!
This (Click Here!)
just bothers me.