The Humms Pub expands!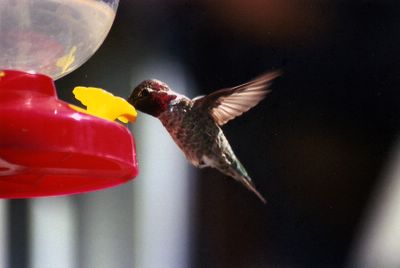 This is what the hummingbirds used to look like when we saw them outside the back door. Fun picture and they had to work a bit. We have quite a few hummingbirds so we got another one and moved this over to the fence.

My stepson calls this the lazy hummingbirds feeder. I guess he thinks they should have to work a little bit for their food. This one is fun because you can see the hummingbirds tongues if you are in just the right spot. This feeder has room for 6 birds to feed at once and room that some birds could just hang out on the little bar socializing. That is what the box would lead you to believe. I've only seen one at the feeder at a time and they chase each other away from it.