Dogs and More
My sincerest apologies as lately the Blog has been about Dogs and More with little knitting content. I did try to start
CeCe
from ChicKnits but had such a hard time with cotton and sleeves on long dp needles. Plus I was knitting while watching TV in low light and while I was coming down with a nasty flu bug. Hoping to get back into it and may just finish Ribby then do a summery project.
Something Accomplished:
This is a chair that Esther and I painted over the long weekend. Before it was stained brown and was fading. It had been left here by the previous owners and is SO comfortable. Now it looks GREAT! Painting with a four year old is quite the experience. You have to let go of ANY picky anal thoughts and just go with the flow.

Funny Animals:
Every morning for the last week I've had to bring the dogs in because this squirrel (maybe it's more than one?" gets treed in the plum or apple tree on the side of the house where the dogs are. I think they know they can't really get him and they are using their "Play with Me" barks but I wouldn't trust 'em either.
Flowers:
Mums

More Flowers. I have forgotten the name of these and am too lazy to go look. They're used for cut flowers quite often so it's nice to have them in the garden.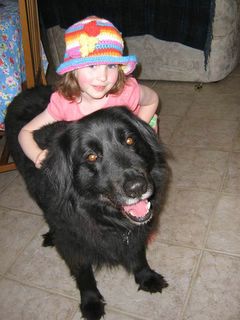 I'll leave you with one last picture of Sparky and Esther.
I'm trying to clear out some stuff. So if anyone's interested: EBAY! See my Auctions
Here.
I'll be adding things throughout the week.