Hey You get off of my ________!
Summer Fun!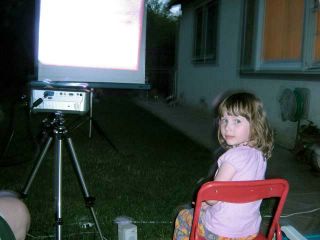 Movies in the backyard! Aristocats of course! Esther wants a kitty so bad and talks about it all the time. Eventually, I just need a big block of time to referree the introduction to the dogs. Sparky LOVES cats, almost to the exclusion of his doggy family members from past experience. Bentley and Maddy, I just don't know.....

So Esther and I worked a bit on our project today. When we work on it we sing "Hey you get off of my......

CLOUD!"
over and over and over again. It needs about a gazillion more CareBears because apparently thats how many there are. I'm glad it will be done well before Sunday. I almost made the mistake of trying to make a CareBear Cake, the ones that are shaped like a CareBear. Ugh. Frosting Star kill my wrist! I do them so rarely that it also takes forever, all night te be exact! Fortunately I was able to talk Esther into a Sky blue cake with white clouds and gazillion 1.5" plastic CareBears all over it.