A Picture of actual KNITTING!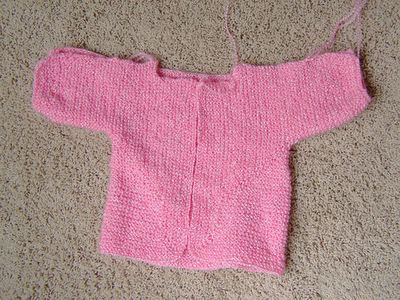 Woo Hoo finally it's picture worthy. I have to admit I was a little worried that things could go really bad if I had made a mistake somewhere in the knitting and not noticed 'til the end. I really couldn't see how it was going to look until it was completely off the needles. I think I used to be able to figure things like that out. Now my brain is just lazy or tired, (both?). Anyway, I'm boing to put white I cord border around all of it. Hoping I can get it complete and send it this weekend. Spring Forward Cardigan Here I come!
I also need to finish Sparky's hair this weekend. He looks like he has a strange case of mange or that he was attacked by a flowbee. Actually..... if he weren't deathly afraid of the vacuum that might work! But I'd be scared to get ears and tails caught up in it.
I got some wonderful links and advice about how to make the cute beaded stitch markers from the ROAK group. Once I get Jump rings I'll make some and share photos and actual stitch markers.